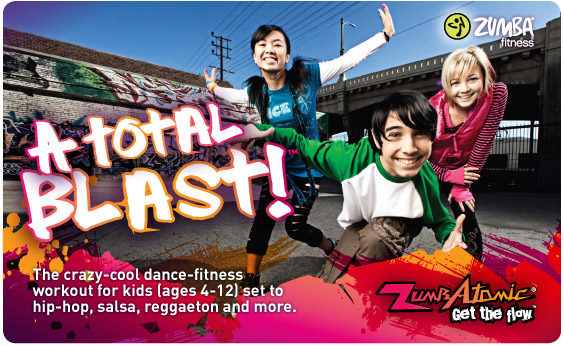 What is ZumbAtomic®?
ZumbAtomic® is a high energy, fun, interactive and healthy program designed just for kids using the Zumba® concept. This 45 min program increases children's focus and self confidence, boosts metabolism, and enhances coordination. Kids love it because they get to jump around to upbeat music, and release all that energy their parents and teachers are always trying to control!
Your children are going to love the Zumbatomic fitness program for kidz. It's a fast-forward fusion of the Zumba program's moves (salsa, cumbia, reggaeton, hip-hop and more) designed to let kidz ages 4-12 max out on fun and fitness all at the same time. Kidz can't wait to get into the Zumbatomic groove. Watch their energy and fitness levels soar as they get the groove.
Children will learn fitness dances, play fun motivational games, and learn new rhythms and styles of music and culture. All classes are taught to not only cultivate individuality and creativity, but to develop leadership, respect, team work, pride, confidence, and responsibility.
PRE-REGISTRATION AT KIDNETIX
45 min per class
45 min indoor playground fun!
FREE classes preregistration required
All classes are for children ages 4 – 10